In this guest blog, Sophie Warren shares her thoughts on self-development for aspiring solicitors during lockdown. With experience of being a paralegal, blogger, Instagram influencer, as well as a keen runner, she has lots of experience and advice to share.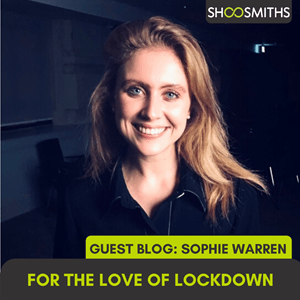 It is safe to say that lockdown has been an unprecedented time for everyone. We've all been adjusting to new ways of living, working and communicating; and these could persist for the foreseeable future. Amongst all the hustle and bustle, it's easy to let your self-development slide and forget that you still have your own journey to embark upon.
At the start of lockdown, I definitely questioned how I would continue to self-develop when all my networking events, sports fixtures and extra curricular courses had been cancelled. I wasn't sure if they would take place in another form and if so, how I would feel about taking part in these. I had no doubt that law firms would ask me what I had achieved during lockdown and I needed to make sure I had a response.
Whether you are a trainee on furlough, a university student with cancelled lectures or you just have some extra time in your day, I hope this blog provides you with some self-development ideas; all from the comfort of your own home. The opportunities really are endless and will turn the lull of lockdown into a love of lockdown!
The Start of Something New
Lockdown is a great opportunity to try new hobby. This could be something completely out of your comfort zone, or merely something you don't normally find the time to do. Not only will it make your time in lockdown a lot more enjoyable, but you will also be able to showcase you newly found hobby and continue with this once normality returns. Perhaps you've always wanted to create a blog, write a book or take up knitting or try Pilates.
To really see the benefits of taking up a new hobby, you can set yourself an achievable goal each week. For example, this week I am going to try a certain Pilates pose or a new type of stich. By setting yourself a weekly goal, you will be able to see your progress journey, how you have improved and your strengths and weaknesses along the way. Not only will you have learnt something new, but also demonstrate to law firms how you can set a target and achieve this.
Personally, I have always enjoyed running but I have hated any form of stretching. During lockdown, I have been doing weekly online stretch classes hosted by my gym. Each week, I am aiming to be closer to folding in half and touching my toes (pain free of course). Unfortunately, the more I run the more difficult this becomes so this task is proving quite difficult, but we persevere!
A Helping Hand
Charities across the UK have lost millions of pounds as they are forced to close shops, postpone fundraising events and furlough staff. But volunteering opportunities are still ripe and you can be a helping hand from home.
Furlonteer has become a well-known initiative during lockdown and matches you with a charity based on your skills and interests then determines how you can help them from home. You could be doing anything from helping them set up a social media account to helping with calls and admin tasks. With time on my hands, I applied to be a furlonteer and have already been paired with a charity.
Approaching a local charity in your village may also present volunteering opportunities. Many small charities don't have the resources for marketing and fundraising and will be grateful of any extra help.
Volunteer positions with the NHS have also been popular. From dropping off prescriptions to calling people at home, this is another great way to volunteer and help the nation.

Supporting your vulnerable neighbours is also permitted. You may wish to drop off their deliveries or run some errands for them. You really will be making an impact on someone's daily life and the results will be extremely rewarding.
Volunteering can be great way to establish a connection with your local community and see first hand the positive impacts you are having. It's a way to show law firms that you actively seek opportunities to develop your skills, engage in pro bono activities and use your time productively to help others.
Online Kingdom
There has been a surge of social networking and online courses during lockdown. Normality seems a distant concept and so we need to accept these as the new norm. Lockdown is a perfect time to become accustomed to the future legal landscape.
Organisations such as Legal Cheek are continuing to host virtual events to help improve commercial awareness whilst many legal influencers are hosting live Instagram streams with a variety of legal professionals and Q&A sessions. It is now easier than ever to attend events like these and they will provide insightful information alongside opportunities to network.
Podcast popularity is also on the rise. Between 10-20 minutes long, many are listening to podcasts on what would have been their commute. I tend to listen to one during breakfast time. The following are just a few that provide useful updates: Watson's Daily, The Commercial Awareness Podcast and Think Commercial. Sometimes you can be overwhelmed by the information in the news, but podcasts provide you with concise points and often advise how to discuss these within a legal environment.
Online courses and contributions are equally as available. The Corporate Law Academy boasts a 'Partner Led Training Course' where you can learn about commercial law directly from a partner whilst online legal platforms such as LittleLaw and The Business Update are always seeking avid writers to contribute to their portfolios.
By participating in online opportunities will be able to demonstrate that you have initiative and take an active approach to your self-development and learning. You will be able to show law firms that you are able to seek out opportunities during unclear times and ensure you maintain your commercial awareness in a frequently changing industry.
TOP TIP
If you haven't done so already, I would highly recommend creating a lockdown diary. A place where you can document what you have been doing during lockdown, what you have achieved and any new information or skills you have learnt. This way, it will be easy to pinpoint what you did during the three months of confinement (and will make an interesting story for the grandchildren too)!
#INSTAGRAMLIVE
Hear more from Sophie when she feature's on #ShoosmithsLIVE, a live Instagram video broadcast where you can join the conversation and have your questions answered.
Hosted by Shoosmiths' graduate recruitment manager, Samantha Hope, head to our Instagram page at 6pm on Thursday 4th June for a special "Walk & Talk" live broadcast.
Sophie Warren is the founder of LegallyRun, the blog and Instagram platform designed to inspire young lawyers to become well-rounded individuals by partaking in sports, pro-bono activities and networking events and importantly, the platform seeks to demonstrate how to establish a brand for yourself in the legal community.
Sophie has experience as a paralegal in both Family Law and Real Estate alongside experience of studying and living in France. Sophie is currently involved in numerous charity projects; using her fundraising and social media marketing skills to help charities raise their profiles.
Disclaimer
This information is for educational purposes only and does not constitute legal advice. It is recommended that specific professional advice is sought before acting on any of the information given. © Shoosmiths LLP 2023.