Our team of experts use their extensive knowledge to advise clients on all aspects of the data centre sector on an international scale.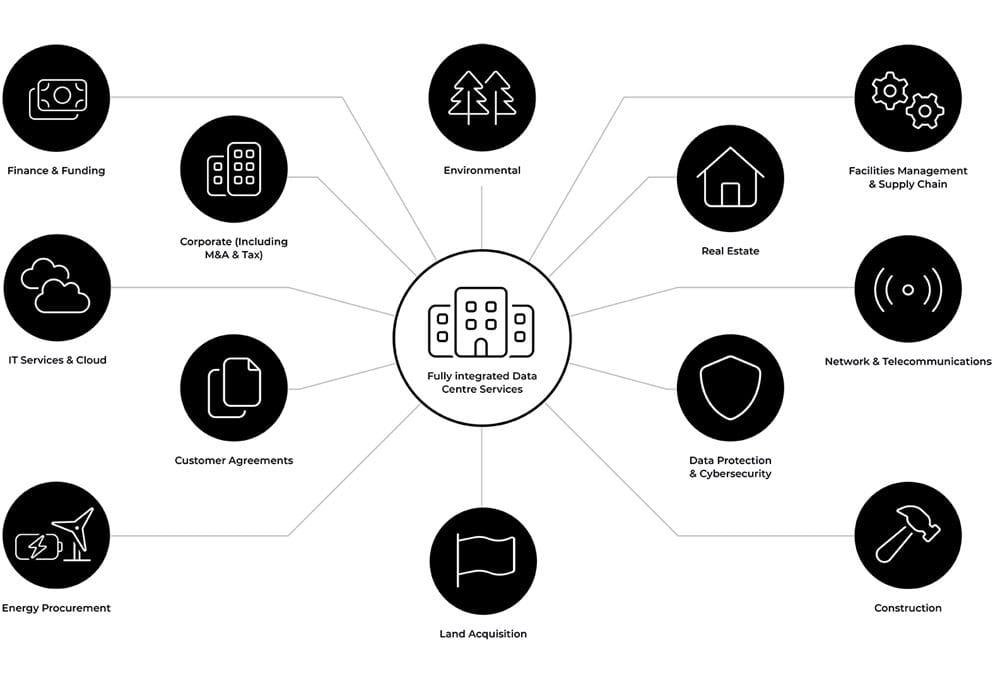 Data centres play a critical role in our everyday lives as we all become increasingly dependent on being connected. Owing to the ever increasing reliance upon data, data centres have never been more important.
Our team understands the complex and ever evolving nature of data centres and appreciate that every facility is different. Through working closely with our clients over a number of years we combine legal expertise with a genuine understanding of the operational and technical issues faced by facilities across a global platform.
As data centres become an increasingly attractive investment asset class, our lawyers are able to utilise their knowledge, gained from working with experienced investors and new entrants to the market, in order to advise on complex data centre investments and disposals.
We understand the nuances required across all aspects of this ever evolving sector and can provide tailored advice to suit your data centre needs. Our clients include:
Enterprise/hyperscale operators
Colocation providers
Cloud data centre providers
Managed services providers
End users/tenants/customers
Developers
Investors
We draw upon a wide group of professionals who are able to advise clients on a broad spectrum of areas that impact the data centre sector including:
Acquisition and investment – M&A (trade, private equity, venture capital and joint venture) and real estate asset
Occupation - colocation, lettings, licences, master service agreements and framework agreements
Development
Construction and projects
Outsourcing
Environmental and planning
Tax
Data protection and cyber security
Information technology
Regulatory
Intellectual property
Energy
Telecoms
Sector experience
Advised the leading owner, operator and developer of large scale data centres in Europe and Asia Pacific, across all of its customer contracts in its global portfolio, construction projects and commercial framework agreements.
Advised a new entrant to the UK market across all of its edge data centre portfolio.
Acted for an award-winning provider of wholesale and retail colocation space in the UK across its portfolio.
Acting for an operator in negotiating a complex framework agreement with one of the world's largest technology companies.
Advised on the share acquisition of a UK based data centre operator specialising in colocation hosting.
Advised on the sale and leaseback of a portfolio of UK-based data centres.
Negotiated a global framework deal and associated country specific deployments on behalf of an operator with the world's leading social networking company.
Acted for an operator in the grant of a series of leases to a global bank.
Advised a client on a software-defined network project to be installed across numerous data centres.
Advised an investor on its acquisition of a UK-based data centre campus.
Negotiated a series of connection agreements with utility providers on behalf of a UK-based operator.