Dan Stamford is Shoosmiths' first full-time London-based trainee solicitor, here he shares what life is like living in the city and working in the London office of a national commercial law firm.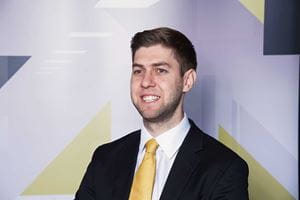 Dan Stamford, trainee solicitor
In 2015 Shoosmiths opened its London office. It was unchartered territory for the firm which has historically built its profile and reputation across the country in locations such as Northampton (the birth place of the firm where it was founded in 1845), Solent and Milton Keynes.
However, the office has experienced incredible growth in such a short period of time into a full-service office in the heart of the City of London with ambitious plans for growth in the future which includes nurturing the talent currently within the office and lateral hires from other established City firms. Part of these plans includes offering training contracts in the London office, now that the size of the office can adequately support the development needs of a full-time trainee solicitor.
Life in the office
The office is based in the City of London in the heart of the financial district. This means the office is well located to provide advice and support to businesses and clients within the immediate area as well as international companies located within London.
The London office has several departments, from real estate and banking, to employment and pensions. The real estate department is the largest team in the office which includes planning, environment and constructions lawyers. The office's corporate department is the next largest team which deals with a variety of transactions such as mergers and acquisitions, and venture capital work, and has an expertise acting for tech companies.
My current seat is with the real estate team and I have worked with a number of major national and international businesses, such as retail landlords and data centre operators which is a testament to the firm's reputation as a leader in this sector. I have been given plenty of responsibility by running my own transactions and developing client relationships. Whilst the level of expectation may initially feel daunting, I have had plenty of support and encouragement from my supervisor and other members of the team.
Whilst the office continues to grow and change it still retains Shoosmiths' ethos of great culture and agile working with a focus on wellbeing. Like Shoosmiths' other offices we work in an open plan environment with an "open door" policy. The firm prides itself on not being overly hierarchical and pretentious and I have found that all the partners and senior members of staff are friendly and approachable.
Shoosmiths also operates as "one firm" so whilst there are a number of offices there is a lot of contact with colleagues from other locations and I am frequently working on projects with teams across the country. Shoosmiths' aim is to be the leading national law firm famous for its client experience, with an emphasis on its national focus. This is different from other firms with a large London presence that farm out work to their regional offices.
We are due to move into new offices next year (2021) at One Bow Churchyard which is only five minutes away from the current location at St. Pauls. We are moving location as we have outgrown our current space and will require more office space in order to achieve the firm's ambitious plans for the future. We are excited about the move as we will be occupying the whole of the brand new building. It is currently being refurbished into high-quality office accommodation with terraces on every floor and views over the City.
On our new office Joe Mazzucca, Head of Shoosmiths' London office said that "the new office space will enable us to continue our growth programme in London which has recently seen us make a number of high-profile hires. Being close to both the markets and our clients enables us to deliver the level of service expected from Shoosmiths."
I am looking forward to having more working options, such as using project rooms for collaborating with teams on projects and break out areas when I want to review documents in a quieter environment. There will also be a larger client meeting space in order for us to host events at the office and conferences.
Life outside the Office
One of the key benefits of working at Shoosmiths is its approach to work-life balance. The office has a social committee which is responsible for organising events outside of work hours such as the "Breakfast Club" on the last Friday of every month, and activities such as Flight Club (think electronic interactive darts – great fun) and Bounce (which can be very competitive!). The office also has a focus on health and wellbeing; there is a running club which is open to everyone of all levels of fitness and several colleagues also attend fitness classes together.
The office is also well placed in the City of London for a social life, there are a range of great bars and restaurants in the area (Pilpel, a falafel and houmous bar, is an office favourite). We are based near One New Change shopping centre so there are plenty of shops to visit at lunch or after work. I particularly recommend visiting the Friday Food Market if you would like to treat yourself.
Being based in London there are also a number of great landmarks and attractions to visit. The office is within walking distance of the Tate Modern which has plenty of interesting exhibits and St Paul's Cathedral, which has a number of surrounding gardens that is great to sit in during the summer. I also recommend visiting the Barbican's conservatory which is a hidden gem.
We are looking for three trainee solicitors to join us in London in September 2022 (as part of the wider cohort of 30 trainees). Applications for a training contract 2022 in our London office and other locations are open on our website until 31st May.
If you are interested to learn more about the London office then have a read of Kathryn's blog about how to research a law firm.
If you have any questions you can email us at [email protected] or have a look at some frequently asked questions here.
Disclaimer
This information is for educational purposes only and does not constitute legal advice. It is recommended that specific professional advice is sought before acting on any of the information given. © Shoosmiths LLP 2023.