Over six years after starting a level 4 apprenticeship at shoosmiths, kayleigh says she has felt valued throughout her time at Shoosmiths and she uses a lot of what she learned on the apprenticeship.
In September 2013 I embarked on a two-year apprenticeship with Shoosmiths, the CILEx Level four diploma in legal services, specialising in debt recovery and insolvency. I completed my apprenticeship and in January 2017 I took the role of executive case handler in unsecured recoveries Northampton. This meant I was responsible for aiding in the management of the team, as well as producing client reports and billing. I was also responsible for handling complaints for my respective team.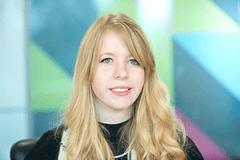 In March 2018 the customer relations team was formed, focusing on independently dealing with our client's customer complaints across consumer finance litigation and risk (CFLR). I joined the team at it's beginning in March 2018, having realised that I enjoyed dealing with customer complaints and concerns. This role has given me lots of exposure to the different areas within recoveries, as we deal with complaints from all areas of CFLR, from mortgage repossessions to asset finance and everything in between. We also answer complaints for different jurisdictions, namely Scotland and Northern Ireland.
I recently had the opportunity to act as team leader as maternity cover. This was very rewarding, and I was glad to take on the role, and grateful to be trusted to do so given that I had started Shoosmiths as an apprentice.
I have not been treated any differently to my colleagues who have taken more traditional educational routes, and my six years' experience of working within Shoosmiths has been invaluable.
I have felt valued throughout my time at Shoosmiths and I am pleased to say that I use a lot of what I learned within my apprenticeship daily. An apprenticeship was the right path for me!
We are celebrating 'National Apprenticeship Week' which runs from Monday 3rd – Sunday 9th February 2020. Join the conversation by searching for #NAW2020 on social media.
If you have any questions you can email us at [email protected] or have a look at some frequently asked questions here.
Disclaimer
This information is for educational purposes only and does not constitute legal advice. It is recommended that specific professional advice is sought before acting on any of the information given. © Shoosmiths LLP 2023.