An online strengths-based assessment will follow the successful completion of an application form and could be the driving force behind receiving an invitation to attend a summer vacation placement or being invited to a trainee solicitor assessment centre with national commercial law firm, Shoosmiths.
A career as a solicitor is an attractive one with many benefits such as clear career progression, ongoing training and development opportunities, and a good rewards and benefits scheme. At a national law firm such as Shoosmiths, you'll also benefit from receiving high quality work, excellent client contact early on in your career, a healthy supportive work environment, agile working options, and working for a business with ambitious net zero aspirations.

Deciding to take your first steps into a career in law is a big decision. You'll need to weigh up the different routes into the legal profession, choosing one that is most suitable for you. If you have decided to take the 'traditional' route into the profession by studying a degree first, then you'll want to know what the next stages are in applying for a graduate-level job.

The attraction and recruitment of talent has a profound impact on the future success of Shoosmiths. We need to be an employer of choice to attract, train and retain the best talent available. Routes to qualification in the legal profession are ever evolving and we have been working to transform our early careers model to accommodate the new Solicitors Qualification Exam (SQE) route.

At Shoosmiths, we accept applicants who have completed law and non-law degrees. What follows is one-year of studying the PGDL (for non-law applicants) and then one-year of preparing for and sitting the SQE exams (for law and non-law applicants).

During your postgraduate studies (or even while you're at university) you need to be thinking long-term about your career, and that's because large law firms typically recruit two years in advance of the graduate-level job starting. A law firm 'graduate scheme' is traditionally known as a training contract and is a two-year programme where you will work and earn a salary. You'll receive training on the job to develop you into a solicitor, then at the end of the programme, you will qualify as a solicitor and can provide legal advice.

Obtaining a training contract isn't always easy. To give you an indication of just how competitive it is, Shoosmiths receives around 2500 applications per year for 36 training contracts nationwide.
The introduction of a strengths-based assessment
A driving force behind the introduction of the strengths-based assessment was to support a fair and inclusive assessment process. Hiring a diverse, representative workforce is a business imperative for us, so creating organisational processes that source higher quality candidates, allowing them to demonstrate their unique knowledge, skills, and abilities in a fair, unbiased manner, is a desirable outcome for candidates and the business.

We recognise that we'll meet many other applicants during the process, who, although may not be successful, will be able to benefit from the process by developing their knowledge of a career in law, developing their own skills and commercial awareness, and learn about their own strengths and weaknesses. The online assessment is designed to immerse you into the type of work you can expect as a trainee solicitor at Shoosmiths, developing your knowledge of the legal profession.

As of December 2022, an online video interview will no longer form part of the selection process for a training contract. Instead, this is replaced with an online strengths-based assessment which has been designed by Cappfinity (specialists in strengths & potential based recruitment).

In line with the firm's refreshed values, we identified that a strengths-based assessment was better aligned with the potential we are looking for in our future trainee solicitors. The new assessment will give a realistic preview into life here at Shoosmiths. Due to the number of applications we receive, we also wanted to utilise a process that enabled us to provide feedback to applicants at an earlier stage in the process.

Shoosmiths values are:
Focusing on what matters
Making a difference
Delivering together
Being ourselves
Our approach to our people and our clients is underpinned by our approach to diversity, inclusion, and wellbeing. Our ambition is to build a diverse and ambitious workforce that reflects all backgrounds and talents, and a workplace that is supportive and inclusive, recognises and nurtures talent, and has a strong sense of community between colleagues. We believe that the introduction of the strengths-based assessment into our selection process enables us to achieve this.

"We are proud of who we are. We are better and create progress when everyone has a voice and feels free to be themselves, and when difference perspectives and experiences are shared and respected."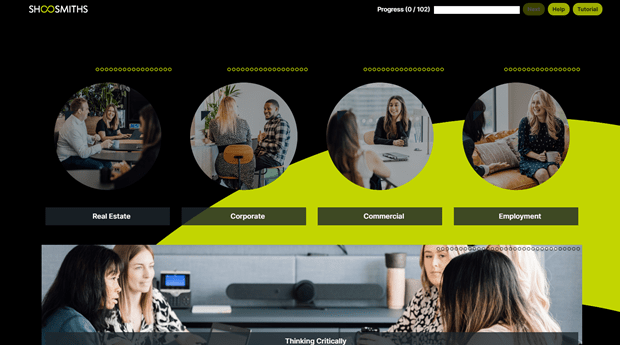 The stages of assessment
The stages of the Shoosmiths assessment process have been designed to enable a fair and inclusive assessment of your suitability for the role of trainee solicitor at Shoosmiths.
The stages are:
An online application form which includes four competency-based questions
An online strengths-based assessment which includes five modules
An in-person assessment centre which includes four core exercises (group, in-tray, presentation, interview)
Note, the assessment centre does not form part of the initial summer vacation placement selection process.

"Think: where can I take ownership of things that have not directly been given to me. Supervisors are busy, so managing-up is a great forward-thinking strength."
The core strengths of a trainee solicitor at Shoosmiths
We understand that being assessed can cause anxiety and raise a few questions, so we wanted to share some additional guidance with you to help ensure your best performance.

The following guide will help you to maximise the opportunity to share your strengths and show how they match the strengths that are essential to be a successful solicitor at Shoosmiths.
There are lots of strengths you'll have that will make you an excellent solicitor. The seven core strengths and one cognitive ability that we have identified as being essential to the role at Shoosmiths are:
Critical Thinker
Adaptability
Growth mindset
Personal responsibility
Detail
Effective communicator
Credibility
Open Connector
"An ability to think critically and logically through a problem, not be overwhelmed by a task, concentrate on what you need and think step by step to get through it."
What does a strength-based assessment consist of?
Our online assessment includes both Behavioural and Cognitive Assessments. When you access the assessment, you will find four modules dedicated to behavioural assessments, and one dedicated to a cognitive assessment.

The test works by judging your typical reactions, feelings, or behaviours against a realistic scenario-based set of questions.
We define a strength as 'something you do regularly, that you do well, and energises you when doing it'.
Behavioural Assessments
These questions seek to understand how you behave in a range of situations, and why. We may ask you to:
Order a few responses, from the approach you would be most to least likely to take in the given scenario, or those which sound most to least like you.
Select the most appropriate response to the question or scenario, from those provided.
Indicate on a scale, where you would most likely place your actions or views.
Sort several responses into different categories.
Cognitive Assessments
We will assess your critical thinking skills which have been identified as important to the role of a trainee solicitor at Shoosmiths. Specifically, we're looking for you to demonstrate your ability to:
Deduce conclusions
Judge arguments
Identify assumptions
Evaluate evidence
"At each stage of the selection we want to get to know the real you and give you the opportunity to perform at your best. This doesn't stop when you join the firm either!"
You've been invited to an online strengths-based assessment, now how can you prepare?
The best advice we can give you when completing these questions is:
Find a place where you feel comfortable doing the assessment. We recommend somewhere that has a stable internet connection and is quiet to make sure you won't be distracted or interrupted.
When you first start the assessment, you will be asked some mandatory questions about yourself, but these will not form part of the assessment.
We are looking for your genuine responses to the questions. You do not need any prior knowledge or experience of working in the legal profession to answer the questions.
Be honest and authentic. When choosing your response, think about how you would behave in that scenario. What would your natural reaction be?
Read the scenario and response options carefully. The assessment is not timed, so take your time to fully understand what the question is asking you. We suggest that you set aside at least 60 minutes to complete the assessment and try to complete it in one sitting for the best experience. However, you will need to complete it within a timeframe which is communicated to you when you are invited (typically 5 days).
Don't overthink it or try to pre-empt what Shoosmiths might 'want' you to say. The purpose of these assessments is to understand your natural innate strengths.
"The best trainees are good at every seat/area of law and can adapt to different kinds of law, colleagues and clients."
Reflect upon your strengths
We all have unique strengths which make us who we are; these help us to be successful and can lead to high job satisfaction if enabled within the workplace. As part of your application, we encourage you to reflect upon what your strengths are.
What are the activities you really enjoy doing or achievements you are most proud of?
What things are always at the top of your to-do list —or fall continuously to the bottom?
Strengths are wide ranging from being a great writer; engaging in empathic connections with others; utilising action to drive results or being able to bounce back from setbacks.
At the end of your assessment, you'll get a personalised report of your strengths and the areas you need to work on. A key area of focus during assessments and interviews is your own self-awareness, and whether you can provide an honest, thoughtful answer to highlight your commitment to development.
We encourage you to use this report for your personal development and hope that you find it useful. Please note, this feedback report does not include the outcome of your application. We will be in touch about the outcome of your application separately.
In the future, even if you aren't asked the "what are your strengths and weaknesses?" question directly, having carefully considered your report will give you an answer to explain what you can bring to the role and how you want to grow in the future. You'll also be able to share any action you have taken to improve your weakness and why those experiences can be viewed as strengths.
Disclose any assessment requirements
We are supportive of all candidates who apply to work for us. If you feel there is something that may impact a fair assessment of your strengths and skills in your assessment (such as neurodiversity, physical or mental impairments or a medical condition) then please let us know. We may then have a conversation with you to better understand what adjustments we could provide to ensure a fair assessment. Please be assured that no candidate will be treated unfairly because of disclosing anything, but it will enable us to better support a fair assessment process for you.
Further information
The Cappfinity preparation hub provides you with more information about the strength-based assessment and enables you to practice a behavioural and cognitive assessment, which is the type of assessment you will undertake with Shoosmiths.
If you have any questions about this stage of the Shoosmiths selection process for the trainee solicitor programme (training contract) please contact the graduate recruitment team at [email protected].
Disclaimer
This information is for educational purposes only and does not constitute legal advice. It is recommended that specific professional advice is sought before acting on any of the information given. © Shoosmiths LLP 2023.