Making the most of your summer placement can help you achieve that ultimate goal of securing a training contract. Throwing yourself in and fully embracing the Shoosmiths culture can help you to stand out from the crowd at an assessment day.
A summer placement at Shoosmiths is a fantastic opportunity for aspiring lawyers to get an insight into working at a large commercial law firm. However, perhaps more importantly, I found it to be an invaluable experience in gaining an appreciation for the firm's unique culture.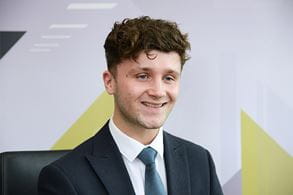 Before my placement at Shoosmiths, I had the perception that in a large commercial law firm there would be a strict professional hierarchy in place and that as a summer placement student I would be put in one department and given menial tasks to do. However – I was very wrong. Shoosmiths have open plan offices which makes everyone, including the partners, very approachable. By showing enthusiasm and expressing an interest in different practice areas, I was quickly tasked up with many different types of work from completely different practice groups. This included family, corporate, employment and real estate. You'd be surprised just how much you can fit in one week.
During a summer placement at Shoosmiths you are also given a number of tasks by the Graduate Recruitment team which are aimed to assess your commercial awareness, your ability to manage your time and your presentation skills. The week culminates in a presentation which you present to your placement supervisor and office training principal. This presentation is a great opportunity for you to make a lasting impression with key people in the office, so my advice would be to spend some time on it and make the most of your chance to show off.
Spending a week with Shoosmiths allows you to experience the people-orientated culture of the firm. I was made to feel very welcome and several solicitors took time out of their busy days to sit down with me and have a chat over a cup of tea about their different career paths. The firm is also very social, and you will find that in every office there are monthly if not weekly events at which you can get to know everyone in the office outside of a workplace environment. This meant that by the end of only one week I had gained a sense of what working at Shoosmiths could be like.
After my summer placement, I was lucky enough to be invited to an assessment day to try and secure myself a training contract. The assessment day comprises of a variety of challenges such as preparing a short presentation, participating in group tasks, written exercises and an interview. These are all designed to see if you are the right fit for the firm.
I found that being able to demonstrate that you meet the Shoosmiths criteria is a lot easier when you understand the culture of the firm and the kind of people working in their offices. If you can show that you understand the Shoosmiths culture and core values and can demonstrate this in your presentation, your interview answers and generally in how you present yourself, you are sure to stand out to those who are watching.
For additional advice on what you'll gain on a placement, take a look at Emily's blog.
Applications for a summer placement 2020 and training contract 2022 are now open on our website.
If you have any questions you can email us at [email protected] or have a look at some frequently asked questions here.
Disclaimer
This information is for educational purposes only and does not constitute legal advice. It is recommended that specific professional advice is sought before acting on any of the information given. © Shoosmiths LLP 2023.