Iain Campbell is a first seat trainee solicitor in Shoosmiths' Glasgow office. Here he shares an insight into working in Scotland's friendliest city and what Glasgow can offer a junior lawyer.
Our office
The Glasgow office is Shoosmiths' newest office in Scotland. The office occupies a modern, spacious working space on the fifth floor of the Garment Factory building in Merchant City. The impressive office building (a former Victorian warehouse) is now home to the likes of Channel 4.
The Garment Factory has a shared games room, break-out spaces, showers and bike storage (not forgetting the excellent cafe on the ground floor!).
When you enter Shoosmiths' office, you are greeted by our uniquely named meeting rooms, "The Big Yin", named after comedian Billy Connolly, "Lulu", and "Spiteri", named after the famous Scottish singers.
The office provides a 'hot-desk' workplace, allowing you to work in a flexible manner which suits you. All the office equipment is state of the art, and each desk is equipped with the latest technology allowing you to focus on the task at hand. There are smaller, soundproofed pods you can work in and use for client calls if needed. The larger meeting rooms are great for client meetings and internal team meetings.
We also have a large break-out section, which is great for unwinding as well as hosting client events.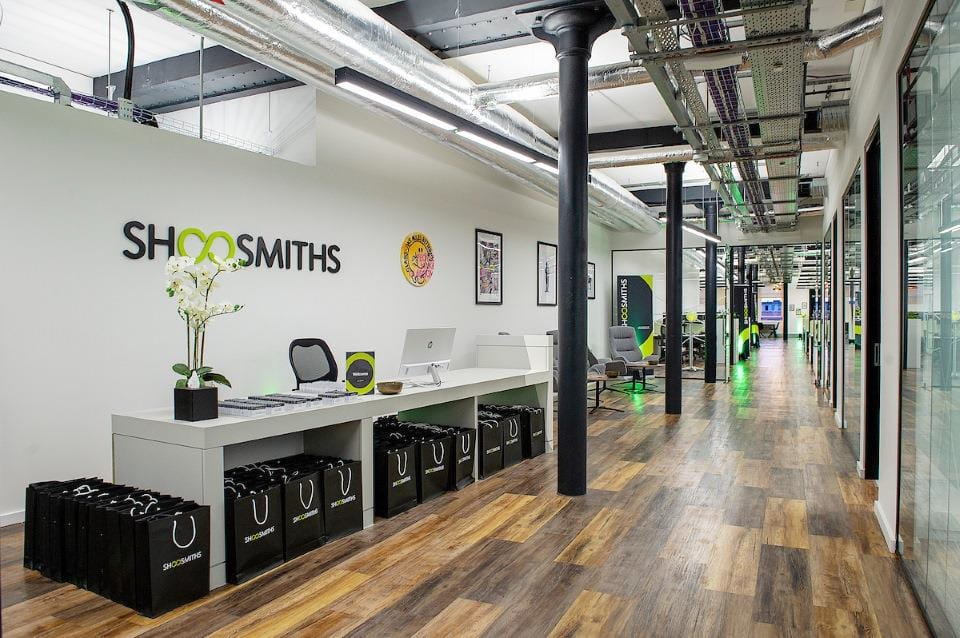 Our People
It is said that people make Glasgow. That is certainly true of Shoosmiths' Glasgow office.
It is easy to connect with everyone here, as everyone is incredibly supportive and encouraging. From paralegals to partners, no question is ever too much. Collaboration is encouraged in Glasgow, and you will get to know all the departments well.
There are plenty of opportunities to connect with colleagues through the various committees you can join. There are also regular social events in the Glasgow office, which you are encouraged to attend.
Most importantly, you are made to feel part of the team from your very first day.
The Location
The Glasgow office is located in Merchant City, right in the heart of Glasgow. Merchant City is known for its cafes, shops and beautiful old buildings.
Being in the City Centre means you are a short walk from some of Glasgow's best restaurants and coffee shops. It is an excellent location for meeting colleagues for after-work drinks!
The office is a short walk from Glasgow Queen Street station and easily accessed by bus.
Join Us
As the Glasgow office continues to grow, it is an exciting time to join Shoosmiths!
The opportunity to work across different teams and sectors and be exposed to different areas of law is one reason the Glasgow office is one of the most exciting places to be.
Facts & figures for Glasgow (correct as of November 2022)
Address: 5th floor, 10 Montrose Street, Glasgow, G1 1RE
Head of Office: Barry McKeown
Total number of staff: 21
Number of partners: 7
Number of trainees: 1 x 1st year trainees
Current trainee vacancies: 2 to commence in September 2025 to spend time across Edinburgh and Glasgow
Trainee salary: £29,000 - £31,000
NQ Salary: £54,500
Likely trainee seats: Corporate/Banking, Real Estate, Employment, Commercial Litigation, plus secondment opportunities to clients
Local junior lawyer & business networking groups:
Follow for more local knowledge:
A few facts about Glasgow:

Glasgow's City Chambers contain more marble than the Vatican
Glasgow hosted the first international game of football (between Scotland and England in 1872)
There are fossilised trees in Glasgow's Victoria Park older than the dinosaurs.
University of Glasgow is the second-oldest university in Scotland after St Andrews.
Apply for an insight evening, placement and training contract in Shoosmiths' Glasgow and Edinburgh office here.
Disclaimer
This information is for educational purposes only and does not constitute legal advice. It is recommended that specific professional advice is sought before acting on any of the information given. © Shoosmiths LLP 2023.