Gabrielle Wall and Tazmin Clements are paralegals in Shoosmiths' Corporate team, based in Milton Keynes. Here they share the ins and outs of what working in Milton Keynes could be like for you.
The office
On 9 March 2020, the Shoosmiths' Milton Keynes office relocated to the brand new 100 Avebury Boulevard building. The 117 strong team reside across the top floor overlooking the skyline of Milton Keynes.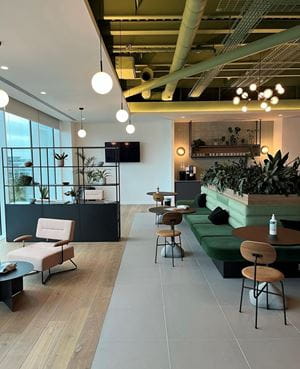 The open-plan office with floor to ceiling windows creates a bright, airy and modern feel. This is a welcome change to the stereotypical dim and dreary four walls commonly associated with law firms. The layout of the floor embraces the collaborative nature of the firm, so whether we're drawing on the knowledge of our specialists or working with another team, we're able to communicate easily and gain exposure to a wide variety of work.
Whilst agile working (sometimes called hot desking) wasn't initially favoured by everyone, it's turned out to be one of the best forward-thinking moves from the firm. It promotes our non-hierarchical way of working as each day you'll be sat with someone different, from Paralegals to Partners, and PAs to Principal Associates. No two days are the same.
"We like to boast that we embraced hybrid working even before the pandemic and without knowing how office life would change. We are fit for a new post-pandemic world." Says Catherine Williams, Milton Keynes' Head of Office.
There's a good balance between quiet focused working and a buzz of conversations and laughter (especially if you're sat with us), but if you do need your own space, we have numerous breakout and meeting rooms available for personal and client use.
The people
One thing we're notorious for in Milton Keynes is the vibe and the feel of the office. Everyone that visits 100AB says there's buzz and energy about it. As clichéd as it sounds, it really is down to the people that make the firm and the office what it is.
"A hidden gem - not only is it a fantastic, modern space to work in, the quality of work is also superb and on top of that we have an amazing group of people who make the office what it is." Claire Checketts, Deputy Head of Office
Mental health and wellbeing is a top priority within the firm and Milton Keynes alike. Our Mental Health and Wellbeing Champions are always on hand for a coffee and a chat ensuring there's always a friendly open ear if needed. They promote monthly initiatives and challenges for us to get involved in to promote healthy working habits. Little pick me ups and feel-good things around the office include healthy smoothies, fresh fruit and MK-personalised quote boards as an alternative way to communicate with colleagues.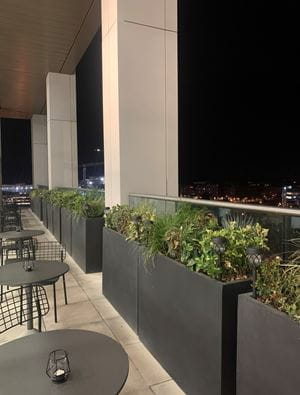 The social
The social area provides a versatile space to gather with colleagues, have some chill time – or even host a party (if you have an eye for detail, you may even notice a disco ball or two!). The area comprises a large flat screen TV, surrounded by comfy chairs and sofas which are perfect for grabbing a coffee or a bite to eat. Our terrace offers panoramic views, which is always a good backdrop for when the sun's setting and you have a cocktail in hand.
Striking the balance of working hard and playing hard comes easy with our games room. Here you can find a ping-pong table which serves as great practice for the annual MK ping-pong tournament. The space also includes a pool table and is the perfect place for our lunchtime yoga sessions or a workout using the weights provided.
Life at 100AB will never get boring as there's always an event to attend to meet some new faces. From hosting clients, to our infamous themed Christmas parties, our social area sees it all. It's certainly a testament to our office space that everyone requested to have this year's Christmas party in the social area as opposed to our usual external venue. Networking opportunities are endless thanks to our longstanding link with Northants and Bucks Junior Lawyers Division (NBJL). This is great for those who are early in their careers to get involved in.
The "city"
Not technically a city at all, Milton Keynes itself has an assortment of local amenities, ensuring there's always something for everyone. The Hub is a five-minute walk away and includes well-known bars and restaurants which we often visit for team lunches, entertaining clients and post-work drinks. If you're looking for something more adventurous, there is the Xscape snowdome, crazy golf and the newly opened Ninja Warrior experience. If you're looking to escape reality for a couple hours, the theatre district is on our doorstep as well as a 5dx cinema.
If none of the above takes your fancy (we'd be shocked though!), the Milton Keynes central train station is a one-minute walk away from the office which provides quick and direct train links to major cities such as London, Birmingham and Manchester. This comes in handy for socialising – as we often work cross-office, so it's easy to make a quick trip into London to work or to celebrate with our colleagues after a deal completion!
"The Milton Keynes office is one of the more established locations in the Shoosmiths network and has had a presence in the town (want to be City!) for over 20 years. Our office move to a gorgeous penthouse location near the station has allowed us to turn the dial on both our internal and external profile. We hope we are seen as a dynamic and ambitious group of people who work hard and support one another (and laugh a lot!)." Catherine Williams, Head of Office.
To fuel a busy day ahead, we have a café located on the ground floor of the building for you to grab your morning coffee and breakfast. For a quick bite to eat at lunch, one-minute away at the train station is also a Starbucks, Pret, M&S and a few other options. Morrisons is directly next door to the office too, so you'll never be short of options.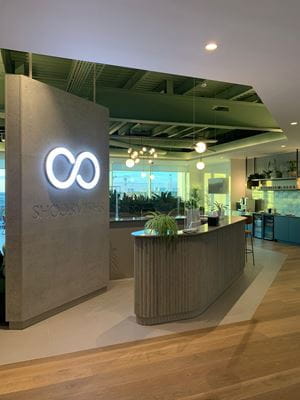 The future
Nathan Bostock, CEO Santander UK said: "Milton Keynes is one of the UK's leading technology centres and with a number of innovative education and training providers on our doorstep, we believe it will provide us with excellent future access to talent and opportunities for colleagues to innovate and develop their skills." and we couldn't agree more.
Argos and Domino's have headquarters in MK, and Santander's brand-new HQ is being built right now, with so many businesses choosing MK as their base, it's a hub of business activity, and the perfect place to start your corporate career.
"In terms of what's next, I want to see each other face to face much more this year. I like what we get from real life interactions. In the long term, our goal is to continue to act on City quality mandates and win more incredible new client accounts from our MK base." Catherine Williams, Head of Office.
Shoosmiths first opened an office in Milton Keynes 22 years ago in 2000. The move to 100AB is in line with our strategy to become the leading national law firm. As we now reside in a landmark office in Milton Keynes, we're looking forward to growing as both a team and a firm to see where the next 22 years take us.
Facts & Figures for Milton Keynes (correct as of February 2022)
Address: 7th Floor, 100 Avebury Boulevard, Milton Keynes, MK9 1FH
Head of Office: Catherine Williams, Partner, Real Estate
Total number of staff: 117
Number of partners: 18
Number of trainees:

4 x 2nd year trainees
4 x 1st year trainees

Current trainee vacancies:

2 to commence in September 2022
2 to commence in September 2023
4 to comment in September 2024

Trainee salary: £28,500 – £29,500
NQ Salary: £50,000
Likely trainee seats: Commercial, Real Estate, Property Litigation, Corporate, Employment, Regulatory, Pensions, Wealth Protection, Family, Commercial Litigation, local secondment opportunities to clients
Local junior lawyer & business networking groups:
Find out more local knowledge:
A couple of facts about Milton Keynes

It takes 34 minutes to travel from MK to Euston by train.
Five international airports sit within 90-minutes of MK. The airports are Luton, Gatwick, Stanstead, Birmingham and Heathrow.
More than 22 million trees have been planted in Milton Keynes, and it has over 5,000 acres of parkland, rivers, lakes and woodland.

Apply for a summer placement or training contract In Shoosmiths' Milton Keynes here.
Disclaimer
This information is for educational purposes only and does not constitute legal advice. It is recommended that specific professional advice is sought before acting on any of the information given. © Shoosmiths LLP 2023.