Niamh Jones is a future trainee solicitor and current paralegal in Shoosmiths' Banking and Finance Team, based in Thames Valley. Here she shares her insight into life working for a national law firm in Reading and why it is the perfect location for Shoosmiths' famous work-life balance!
Our office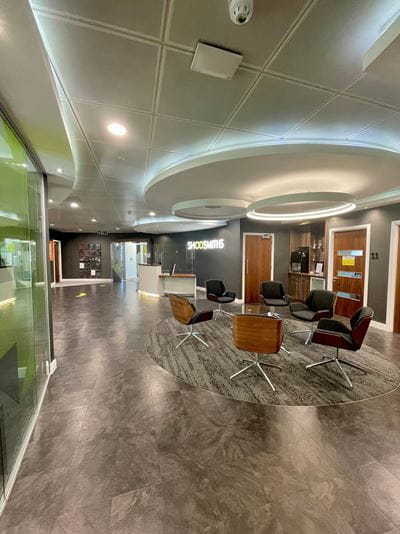 Since 1973, Shoosmiths has thrived through its leading presence in Reading.
Occupying an agile working space, the office has two floors within the commercial hub of the Apex Plaza. As you walk in, the Plaza's atrium encompasses the collaborative spirit of Shoosmiths offering social spaces, a coffee shop (or two!) and even hosting events for national holidays. It is the perfect environment for building strong and authentic relationships with the area's community and clients.
On the first floor, the Shoosmiths' office welcomes employees, clients, and business into a bright and airy reception area, giving the perfect welcome to start to your working day. It is easy to make connections with everyone here, whether it's our estates team, paralegals, or partners – a smiling face is never far away.
Spanning onto Shoosmiths' second floor, the open plan office provides an agile 'hot-desk' workspace. The flexibility of this layout gives the perfect balance to work in a way that suits you. Everyone is able to book their own spacious desk with dual-monitors next to their colleagues of choice. There are intimate, soundproofed pods or large collaborative rooms which can be used for anything from 1-1 or private calls to collaborative spaces with your team. This modern and accommodating environment reflects Shoosmiths focus on people.
Our people
Ultimately, it is the warm and talented people inside of our office that truly make it. Reading is home to our 162 strong team, including a cohort of five trainees each year. Everyone you work with and meet is genuinely so supportive and encouraging. No question is ever too much or too little. The team are always keen to get you as involved as possible and with a variety of departments including corporate, tax, real estate and medical negligence the opportunities to grow as a junior are endless.
Nina Smith and Melissa Maple are joint heads of Shoosmiths' Thames Valley office and responsible for the firm's contribution to, and profile within, the local business community. We run weekly department and office briefs where teams come together to catch up on market insights, helpful tips and training, and our spotlights on "Shoosmiths' Superstars" means you always know your colleagues secret Netflix binge-watch! It's easy to always feel connected - whether working from home or in the office.
The location
As a hub for the Thames Valley, Reading really is the centre of action for the area. (Do not believe all that Ricky Gervais says!) It has all the thrills of the big city lifestyle with a work-life balance.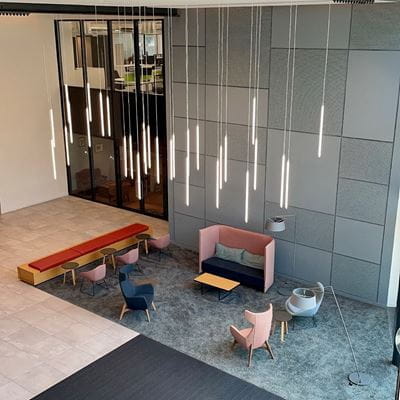 Reading is an ever-evolving region. At the heart of the UK's 'Silicon Valley', the town has its own flourishing innovation economy which continues to attract the world's biggest brands. This makes it a hotspot with the likes of Microsoft, Waitrose, Prudential and KPMG having large offices in the area. Our key clients in the area range from Volkswagen Group United Kingdom Limited, IKEA to Dogs Trust.
Together with its famous music festival, diverse community, arts and culture (for those Thursday post-work socials) a buzzing nightlife – in Reading there is never a shortage of things to do. There are two shopping centres, the Oracle and Broad Street Mall, to indulge your retail therapy right by the riverside. There are restaurants for every taste and occasion, in particular a few favourites are Shed, the Corn Stores, Osaka, the street food at the Market Place, and for drinks Spinners and London Cocktail Club. You will always find something to take your fancy!
Even in the hustle and bustle of the town's centre, it is itself home to award-winning green spaces such as Forbury Gardens or Caversham Court Gardens. If you venture just outside of Reading, you can find yourself in the riverside villages of Sonning or Henley, exploring Swinley Forest or at the inviting bars and restaurants of Wokingham's little market town.
Living in Reading you are always connected – especially with the train station just a few steps from the office (a 3 min walk– not that I've timed it!). There are direct trains to more than 180 locations and 200 train services a day to London. So, you are never more than a short trip to catch up with colleagues, friends, or family. But don't be fooled, even with London only being 25 mins away, more people commute into Reading than out of it!
Join us
Reading is the county town of the Royal County of Berkshire - now the only county in Britain allowed to call itself 'Royal'. Set in the middle of England's 'Silicon Valley', but close to delightful countryside, it is a thriving centre of commerce and light industry including the Reading Festival - one of England's biggest music festivals.
Life as a lawyer in Thames Valley genuinely puts you at the heart of an ever-developing community, with opportunities to grow and be a part of the Shoosmiths' journey.
Facts & figures for Thames Valley (correct as of February 2022)
Address: Apex Plaza, Forbury Road, Reading, RG1 1SH
Head of Office: Nina Smith, Partner, and Melissa Maple, Partner
Total number of staff: 162
Number of partners: 27
Number of trainees:

5 x 2nd year trainees
5 x 1st year trainees

Current trainee vacancies:

3 to commence in September 2024
2 to commence in March 2025

Trainee salary: £28,500 – £29,500
NQ Salary: £55,000
Likely trainee seats: Banking, Commercial, Tax, Residential Conveyancing, Dispute Resolution & Litigation, Medical Negligence, Serious Injury, Real Estate, Corporate, Employment, Regulatory, IP, plus local secondment opportunities to clients
Local junior lawyer & business networking groups:
Find out more local knowledge:

Edible Reading is a food blog helping you discover the best places to eat and explore in Reading.
LovingRDG shares images of the local area.
Muddy Berks The best for fresh air, fine food and things to do in Berkshire.

A couple of facts about Reading

Reading is the largest town without city status in the UK
The University of Reading was founded in the nineteenth century as an extension college of the University of Oxford. It is now ranked as one of the top 200 universities in the world.
It takes 25 minutes to travel from Reading to Paddington station, London by train.

Apply for a training contract In Shoosmiths' Reading here.
Disclaimer
This information is for educational purposes only and does not constitute legal advice. It is recommended that specific professional advice is sought before acting on any of the information given. © Shoosmiths LLP 2023.