Rochelle has been working with students through all stages of their legal studies for the last 12 years. Having seen many changes to legal education and postgraduate offerings, here she shares her experience and key takeaways.
Recently I joined the graduate recruitment team at Shoosmiths, but I began working in legal education all the way back in 2011 when I didn't know my LPC from my KFC and the letters 'SQE' had no meaning. Since then, I have been privileged enough to support many students successfully navigating their way through law school and beginning their legal careers. Over the years, I have picked up some useful tips and pleased to share my top five with you!
1. Use your Careers team
Don't need your CV checking or have already secured a Training Contract? Your university Careers team still have lots to offer you. Tucked away in an office (or Teams channel), employability staff work tirelessly to provide a range of services for students at all stages in their career. If you are looking for initial advice, help with researching firms or ways to develop your commercial awareness, they will likely have just what you need. Even if you are waiting to start your Training Contract, you can still benefit from developing employability skills and becoming office ready.
2. Get to know your classmates
Postgraduate study is very much focussed on the application of law, where you will work closely with your classmates during workshops. The very same classmates may be interested in applying to the same firm as you and could be seen as your competition. On the other hand, what a perfect opportunity to form lifelong friendships with those who you could end up working with in two, five- or 20-years' time. No one understands the life of a law student better than your law student peers, and the support you can give each other during those hardcore revision sessions is second to none.
3. Prioritise your studies
This one may sound obvious, of course you are there to study! However, the temptation to focus all your energy (and your word count) on Training Contract applications is real. With deadlines, events, and networking to consider, you could find yourself skim reading your Business Law textbook or daydreaming through your lecture. The key here is balance, set aside dedicated time to focus on your studies to ensure you have all the knowledge to take into the next step of your career.
4. Claim the free pizza
How many emails have you seen offering networking and nibbles or free pizza on arrival? Probably quite a few. These events are usually a wonderful opportunity to meet recruiters, law firm representatives and join professional networks. The value in having 1:1 chats with those in the profession is endless and can give you insights you will not find on a website. Whilst it can be daunting at first, remember that many law firm representatives were a trainee solicitor once, and if they have taken the time to come to the event, they want to help and welcome your questions. If you need to brush up on your networking skills, see tip one.
5. Have an open mind
Deciding which type of firm, desired practice area or location can be tricky. There is no pressure to have it all figured out on day one. Try new things, get involved in student societies, Pro Bono projects and attend events. Sometimes, the best way to find out what you like is to try what you don't. I have seen many students initially have their sights set on a particular area of law only to experience another and find their true passion. The legal profession is wonderfully varied to suit all characters and career motivations so enjoy exploring all it has to offer.
Becoming a trainee solicitor at Shoosmiths, a leading national law firm in the United Kingdom, is an exciting and challenging opportunity. To be successful as a trainee solicitor, it is important to possess a variety of skills and strengths that will enable you to thrive in this fast-paced and demanding environment. Make the most of the opportunities that your law school offers you to give yourself the office-ready edge over your peers.
If you are interested in applying for a vacation scheme and/or a training contract at Shoosmiths, applications close on 31 January 2023 for placements, and 31 March 2023 for training contracts.
If you enjoyed reading this, take a look at our other recent posts, or if you have any questions specifically about training contracts, you might find your answer on our FAQ page.
You can get in touch with us about career-related queries at [email protected].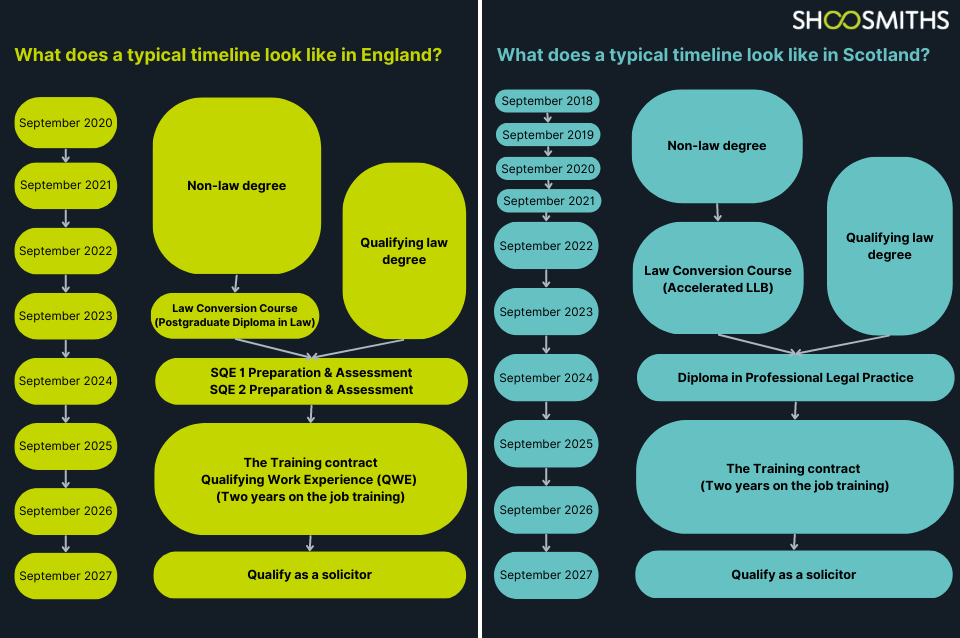 Disclaimer
This information is for educational purposes only and does not constitute legal advice. It is recommended that specific professional advice is sought before acting on any of the information given. © Shoosmiths LLP 2023.