With one of the largest multi-disciplinary real estate practices in the UK, we bring market-leading insight to any transaction or dispute, regardless of size or complexity, ensuring a highly-skilled and commercial approach that goes beyond just advising on 'the law'.

It's not just what we do though, it's how we do it. Our solutions-focused lawyers partner with our clients to ensure an alignment with their wider real estate ambitions, and work with national, international and regional investors, developers, funders, corporates and public organisations on transformational real estate projects in all regions of the UK and in all areas of the real estate industry.
Clients say one of Shoosmiths' sector strengths is its focus on the UK market, which enables clients to access not only London-based real estate lawyers but also expert regional teams who understand local markets and ecosystems and can influence at local level. The firm has a growing presence in Scotland and an expanding capability in Northern Ireland, matching the reach and scale of any national asset portfolio.
"

The team have an excellent knowledge of the sector with a can do problem-solving ethos. They foresee potential issues and advise with clarity the recommended courses of action and processes.
This resource enables teams to be easily scaled up to deal with extraordinary project demands from investors as well as occupiers. The team can point to its flexible, rapid response to some of the most significant disposals or acquisitions in recent years. Collaborative and agile working adds to the firm's ability to continue to attract ambitious and expert talent to its team.
In addition to strong, market leading teams in core real estate, planning, construction, real estate litigation, environment and tax, the firm can additionally offer clients in the real estate sector advice in areas including banking and finance, corporate, commercial, employment, health & safety, data and privacy, competition and dispute resolution.
UK Cities Investor Guide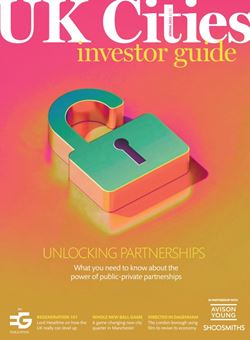 The UK Cities Investor Guide is a bi-annual publication produced in partnership with EG, and tackles some of the key challenges and opportunities facing the real estate investment market.